About Us
The Department of English Language and Literature offers two B.A. degrees, one in English and one in Technical and Professional Writing (TPW). The English B.A. is comprised of four concentrations: Literature, Linguistics, English Education, Individual major and two minors in English and American Literature and in Linguistics. We also offer four M.A. programs in Literature, Linguistics, Composition, and TESOL. Additionally, we have three graduate certificate programs in the Teaching of Composition, Teaching Post-Secondary Reading and in Immigrant Literacies.
To learn more about our department, we invite you to hear from our current and former students. You can read their stories on the Alumni Trailblazers page. Also, be sure to click on our Spotlights for more in-depth profiles of our featured student, faculty member and faculty publication.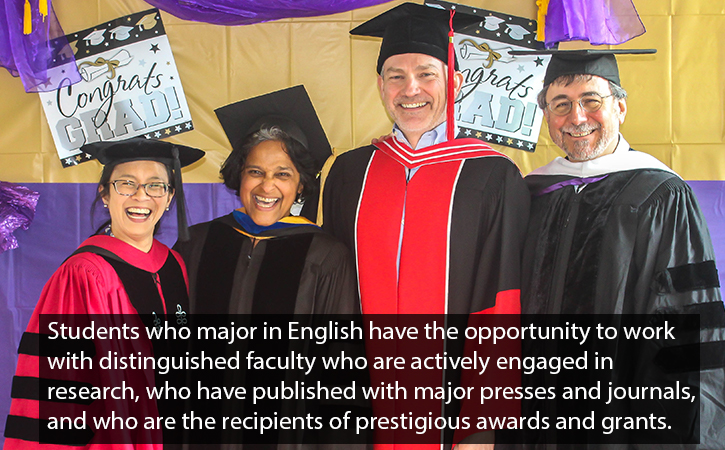 English Department Mission Statement
What if you could be globally engaged through the study of diverse texts and language practices? What if you could be in classes that combine analysis and imagination? What if your education could be a collaborative intellectual experience?
The English Department consists of vibrant and interdisciplinary programs to study communicative practices of cultures and writers all over the world. Our courses, whether on major literary authors or in fields such as Digital Humanities and World English(es), reflect our commitment to the study of English in global contexts. Our student-centered classrooms offer opportunities to use multiple technologies, modalities, genres, and theoretical frameworks to read critically the word and the world around us, with an eye toward writing the future.
By gaining self-reliance, empathy, and intellectual focus, our students go on to become teachers, writers, entrepreneurs, publishers, content designers, attorneys and activists, exciting careers that draw on their analytic skills and their humanistic values.  In addition to shepherding the next generation of critical thinkers into diverse career paths, the English Department also creates exponential change by preparing engaged and effective educators for tomorrow's diverse classrooms.