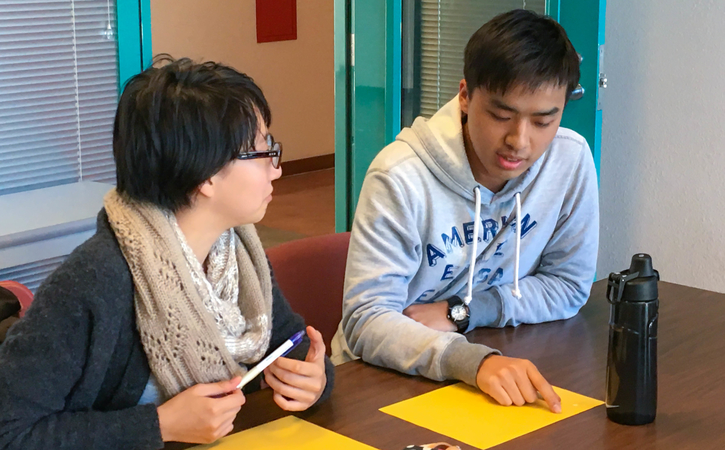 Advisors help you choose the coursework that fulfills the departmental requirements -- as well as your own personal learning goals. They are also an excellent resource for finding answers to any questions that you might have. And when it comes time to convert your units into a degree, they are the ones who will sign the proper forms.
Undergraduate Advising
Undergraduate students choose their own advisors within their area of concentration. To see an advisor, simply go to their office hours or email them to make an appointment.
Undergraduate Writing Programs
English Education
Linguistics Program
Literature Program
William Christmas
Coordinator
Email: xmas@sfsu.edu
Phone: (415) 338-7463

Loretta Stec
Professor
Email: lstec@sfsu.edu
Phone: (415) 338-1451

Kathleen DeGuzman
Assistant Professor
Email: krfd@sfsu.edu
Phone: (415) 338-1886

Wai-Leung Kwok
Associate Professor
Email: wkwok@sfsu.edu
Phone: (415) 338-1459
Meg Schoerke
Professor
Email: schoerke@sfsu.edu
Phone: (415) 338-3099
Summer Star
Assistant Professor
Email: sstar@sfsu.edu
Phone: (415) 338-2240
 
 
 
 
Technical and Professional Writing Advising
Visit Technical and Professional Writing Advising for more specific information.
Graduate Advising
As students become more familiar with the department, they may wish to change their advisor. Students may do on their own without notifying the department office, but should keep their advisors informed of any changes. Until that time, students are welcome -- and encouraged -- to meet with their assigned advisor.
All newly admitted students are required to see their advisors before their first semester of attendance, if possible, or by the second week of classes. The graduate coordinator offers a general advising orientation just before the start of each new semester. Information about this orientation is usually announced to all new students by mail or email. It is recommended that students see their advisors to shape their programs initially and then to gain approval for subsequent course choices. In general, students should contact their advisor for an appointment.
Graduate students are assigned an advisor by the English Department, but are welcome to choose a different advisor at any time. If you do decide to change advisors, please inform the English Department and the previous advisor.
M.A. Composition Program & related Certificate Programs
M.A. Linguistics Program
M.A. Literature Program
M.A. TESOL Program