Coordinator
Overview
The English major and minor, concentration in Literature, offers students a historically grounded study of British, American, and "post-colonial" Anglophone literatures. Our core curriculum includes a series of three upper-division survey courses (Literature in English I, II, III) intended to provide students with a knowledge foundation of literary movements, figures, and forms within a transatlantic context. Literature majors also take one course in linguistics, an upper-division Shakespeare course, at least one course in literary theory or criticism and at least one course in Anglophone literature produced outside of Britain or America.
The Literature program offers a wide range of courses centered on specific authors (Austen, Chaucer, Woolf), historical periods ("Age of Victorians," "American Literature 1914-1960"), genres ("Detective Fiction," "Post-Apocalyptic Science Fiction," "Lyric Forms"), and other special topics ("18thc. Women Writers," "Devils and Angels"), allowing students to pursue their individual interests and pleasures in fulfilling their elective units. No matter what the subject, all courses within the major foster students' close reading, writing, and analytical skills. Literature majors can expect to hone their aptitude for writing, research, oral communication, and analytical thinking. This practical skill set prepares our majors for many career opportunities, including teaching, writing and publishing, law, information science, business and marketing, and more.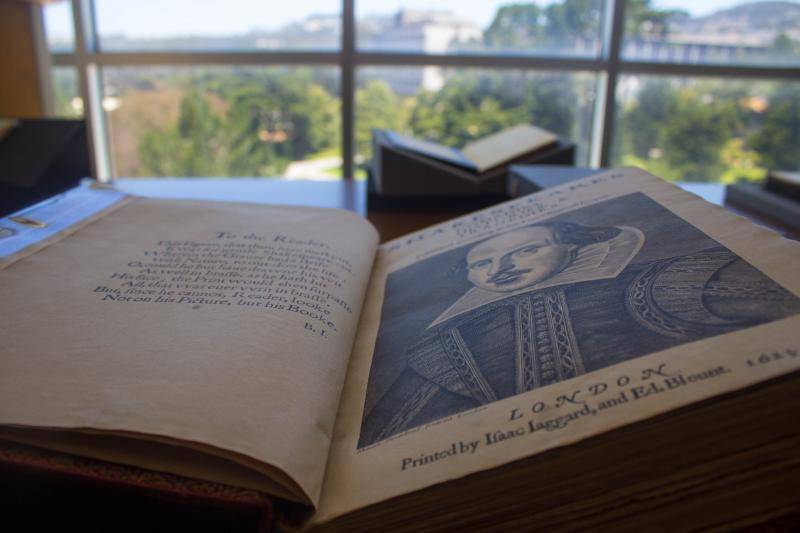 Students Starting Fall 2019: Requirements & Courses
Core Requirements (24 Units)

Lower-Division (6 Units)

ENG 218 - Writing the First Year: The World, the Text, and You (3 units)
ENG 250 - Topics in Literature and Culture (3 units)

Upper-Division (18 Units)

ENG 402 - Introduction to Professional Writing and Rhetoric (3 units)
ENG 420 - Introduction to the Study of Language (3 units)
ENG 461 - Literature in English Since 1800 (3 units)
ENG 480GW - Junior Seminar - GWAR (3 units)
ENG 583 - Shakespeare: Representative Plays (3 units)
ENG 640 - Global Texts and Practices (3 units)

Concentration Requirements (21 Units)

Survey (3 units)

ENG 460 - Literature in English to 1800

Theory or Criticism (3 units) [Select one:]

ENG 600 - Theory of Literature
ENG 601 - Literature and Psychology
ENG 602 - Literature and Society
ENG 606 - History of Criticism from the Eighteenth Century to the Present
ENG 611 - Modern Criticism
ENG 612 - Serial Narrative
ENG 614 - Women in Literature: Authors and Characters
ENG 615 - Imagery, Metaphor, and Symbol

Elective (12 units)

Four electives (12 units) selected with approval of advisor. One may be a lower-division course. One course, or the ENG 690 capstone course, must be in a pre-1800 literary subject.

Capstone Experience (3 units)
View more about the post-Fall 2019 requirements in the current SF State Bulletin.
Continuing Majors (Pre-Fall 2019): Requirements & Courses
The following are requirements for a B.A. in English with concentration in Literature for students who declared their major and began taking classes before Fall of 2019.
View more about the pre-Fall 2019 requirements in previous SF State Bulletins. 
It is strongly encouraged to meet with a Literature advisor for guidance concerning previous requirements and current course offerings. 
Advising
Literature Advisors
The Literature major B.A. Checklist (pdf) is designed to help students keep track of their progress through the major. Please bring this checklist to all meetings with any faculty advisor.
What follows are a few general advising tips students should keep in mind:
Literature majors should be sure to begin with 6-units of lower-division literature (2 courses). These courses can be transfer courses, or taken at SF State. Lower-division literature courses offered by the Department of English at SFSU wil generally be an ENG 250 course (variable topics).
Lower-division literature courses outside the ENG prefix can also count, but require an advisor's approval.  Be sure any non-ENG course you want to take for this requirement will count by checking with an advisor.
ENG 480: Junior Seminar is the "Graduation Writing Assessment Requirement" (GWAR) course for all English majors; it is also considered the "portal" course for the major. Therefore, ENG 480 should be taken immediately after completing, or concurrently with, any lower division course work a student needs.
Transfer students should bring any transcripts (unofficial is fine) from previous institutions to their meeting with their major advisor. Advisors need to sign off on any transfer courses that count in the major on the student's B.A. Checklist.
Be aware that the Degree Progress Report is not a substitute for major advising.  Although the DPR lists your English major requirements, there are several that the system cannot account for. For example, DPR does not know what courses count for the Global Literatures requirement, or what non-ENG lower-division courses will count as prerequisite units, and cannot sign off on transfer course units or substitutions.
Graduation Applications must be signed off by one of the designated undergraduate faculty advisors on the list.
Faculty