M.A. TESOL - What is it?
Fall 2020 Admissions -
February 1- early decision

deadline

April 1- regular decision

deadline

July 31- late decision

deadline
The U.S. State Department has recognized the MA TESOL Program with an English Language Fellow Top Producing Institution Award, an award presented to five institutions that have prepared the largest number of TESOL professionals to become English Language Fellows - highly qualified and experienced U. S. educators in the field of teaching English to speakers of other languages (TESOL).
Fellows are cultural ambassadors who promote English language learning and mutual understanding through cultural exchange on 10-month fellowships around the world. 
This year marks the English Language Fellow program's 50th anniversary and at the Anniversary Celebration on Tuesday, November 5, 2019, in Washington, D.C. Dr. Maricel Santos representing SF State's MA TESOL Program received the award.
Friday, May 1st
The English Dept Conference brings together graduate students in our TESOL, Composition, Linguistics, Literature, and Technical & Professional Writing concentrations and faculty to present their work.
Join us to learn, collaborate, celebrate, and explore the ways our disciplines overlap and inform our research and pedagogy!
Conference website coming soon!
TESOL Talk
April 8 12-2pm in Hum 485.
An alumni panel will discuss how they got started in their professions (teaching and other areas such as communication consultants, publishing, non profit) and ways to think about using the MA TESOL degree for careers beyond just the classroom.
More information coming soon!
Learn more - Open Houses - please Register here.
April 8, 2020 12-5pm
We will have an Open House on this day for prospective students. You can attend our TESOL Talk (see description above) and meet currrent students and talk with faculty about the program. You are also invited to observe a class.
Come for the day or any part of the day - see the Open House agenda.
Overview
The program in Teaching English to Speakers of Other Languages, founded in 1964, is one of the longest running of its kind. This award winning program has a double emphasis:
Theoretical foundations and contemporary research in linguistics, sociolinguistics, second-language acquisition and related fields.
Classroom teaching methodology suitable for adult second-language learners.
Because our alumni go into so many teaching situations, the M.A. TESOL program does not attempt to train for one specific type of locale; instead, we provide general preparation for the teaching of adult learners in a variety of pedagogical settings.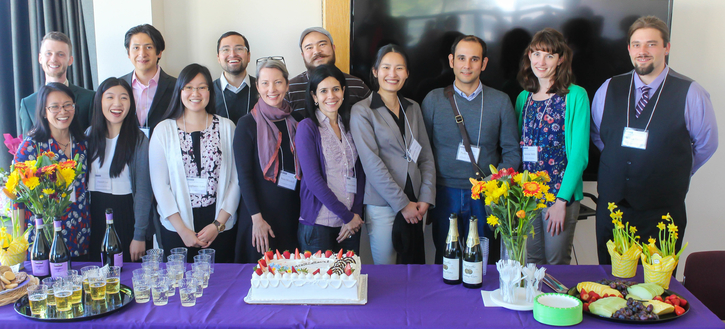 Degree Requirements (30 units)
Core Curriculum (15 units)
ENG 702: Introduction to Graduate Study of Composition, Linguistics, and TESOL
ENG 707: Topics in Language Analysis (Variable Topics)
ENG 728: Topics in Sociolinguistics (Variable Topics)
ENG 733: Student Teaching Seminar
ENG 895: Field Study or Applied Research Project
Concentration Curriculum (12 units)
ENG 731: Seminar: TESOL Listening and Speaking Skills
ENG 732: Seminar: TESOL Reading and Writing Skills
ENG 734: TESOL Curriculum and Assessment
ENG 826: Second Language Acquisition
Electives (ONE minimum - 3 units)
ENG 724: Special Topics in TESOL (e.g. Tech, Teach Abroad, Research)
ENG 726: Practicum (if less than 2 yrs teaching experience)
ENG 736: Seminar: Teaching ESL in the Community
ENG 738: Pragmatics and Oral Skills
ENG 832: Seminar in Immigrant Literacies and Community-Based Projects
The Culminating Experience is fulfilled by ENG 895  or ENG 898 Master's Thesis (with consent of advisor).
Course Descriptions
Admissions & Prospective Students
Coordinator
Priyanvada Abeywickrama
Email: abeywick@sfsu.edu
Phone: (415) 338-3095
Building: HUM 269 
Faculty
Resources