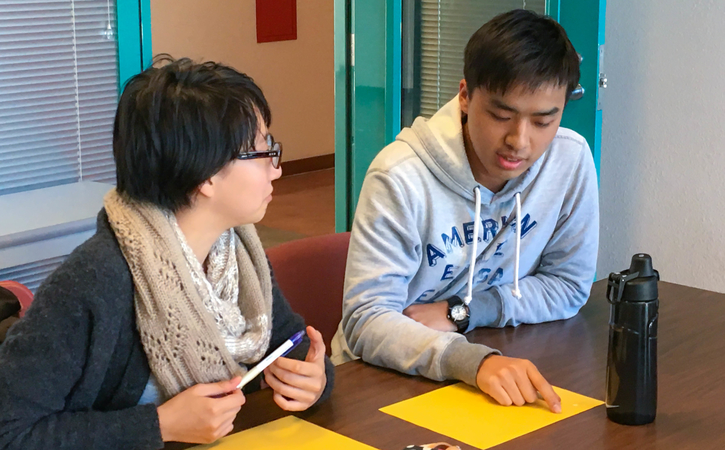 Advisors help you choose the coursework that fulfills the departmental requirements -- as well as your own personal learning goals. They are also an excellent resource for finding answers to any questions that you might have. And when it comes time to convert your units into a degree, they are the ones who will sign the proper forms.
Majors in the College of Liberal & Creative Arts (LCA) should consult with two advisers each semester: (1) an adviser in the major and (2) a general education and university requirements adviser in the ARC (Advising Resource Center for LCA). Students who are completing a minor or an additional major should see an adviser in those programs as well.
Undergraduate Advising
Undergraduate students choose their own advisors within their area of concentration. To see an advisor, simply go to their office hours or email them to make an appointment.
Undergraduate Writing Programs
English Education
Linguistics Program
Literature Program
William Christmas
Professor
Email: xmas@sfsu.edu
Phone: (415) 338-7463

Loretta Stec
Professor
Email: lstec@sfsu.edu
Phone: (415) 338-1451

Kathleen DeGuzman
Assistant Professor
Email: krfd@sfsu.edu
Phone: (415) 338-1886

Wai-Leung Kwok
Associate Professor
Email: wkwok@sfsu.edu
Phone: (415) 338-1459
Meg Schoerke
Professor
Email: schoerke@sfsu.edu
Phone: (415) 338-3099
Summer Star
Assistant Professor
Email: sstar@sfsu.edu
Phone: (415) 338-2240
 
 
Sarita Cannon
Coordinator
Email: sncannon@sfsu.edu
Phone: (415) 338-7462
Professional Writing and Rhetoric Advising
For General Education and University Requirements
Additional Resources
Online Request of Major or Minor: use pull down other academics menu in your Student Center