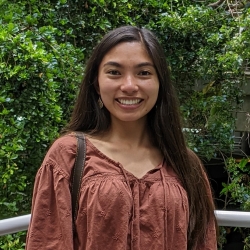 Monique Ubungen
( She/Her/Hers )
Lecturer Faculty
Email: mubungen1@sfsu.edu
Hi Everyone! I would like to extend a warm, virtual welcome to all of you. ❤️
I'm Monique Ubungen, a lecturer faculty for SF State's English Language and Literature Department. I've been teaching First Year Composition at SFSU since Fall 2020 and have supported local community college students in building critical literacy skills since 2016. All of my work focuses on advocating for the success and retention of historically marginalized students in higher education, and in designing and implementing culturally responsive, trauma-informed, and whole-student teaching practices. If I'm not teaching at SFSU, you can also find me hosting workshops and giving feedback to students' writing at Skyline College's Learning Center and City College of San Francisco's TRIO Writing Success Project.
I am a fourth-generation Filipina-American born and raised in San Francisco. I'm a proud Skyline College and UC Berkeley alumni, and a graduate of SF State's M.A. English Composition program. I love reading and watching stand-up comedy, and I am passionate about learning and preserving history through oral storytelling.
Please consult your course syllabus or contact the instructor directly for office hours.