Guest Speaker: Najib Hakim
Event Date: 
Tuesday, April 16 -

2:00 pm

to

3:15 pm
Location: 
HUM 472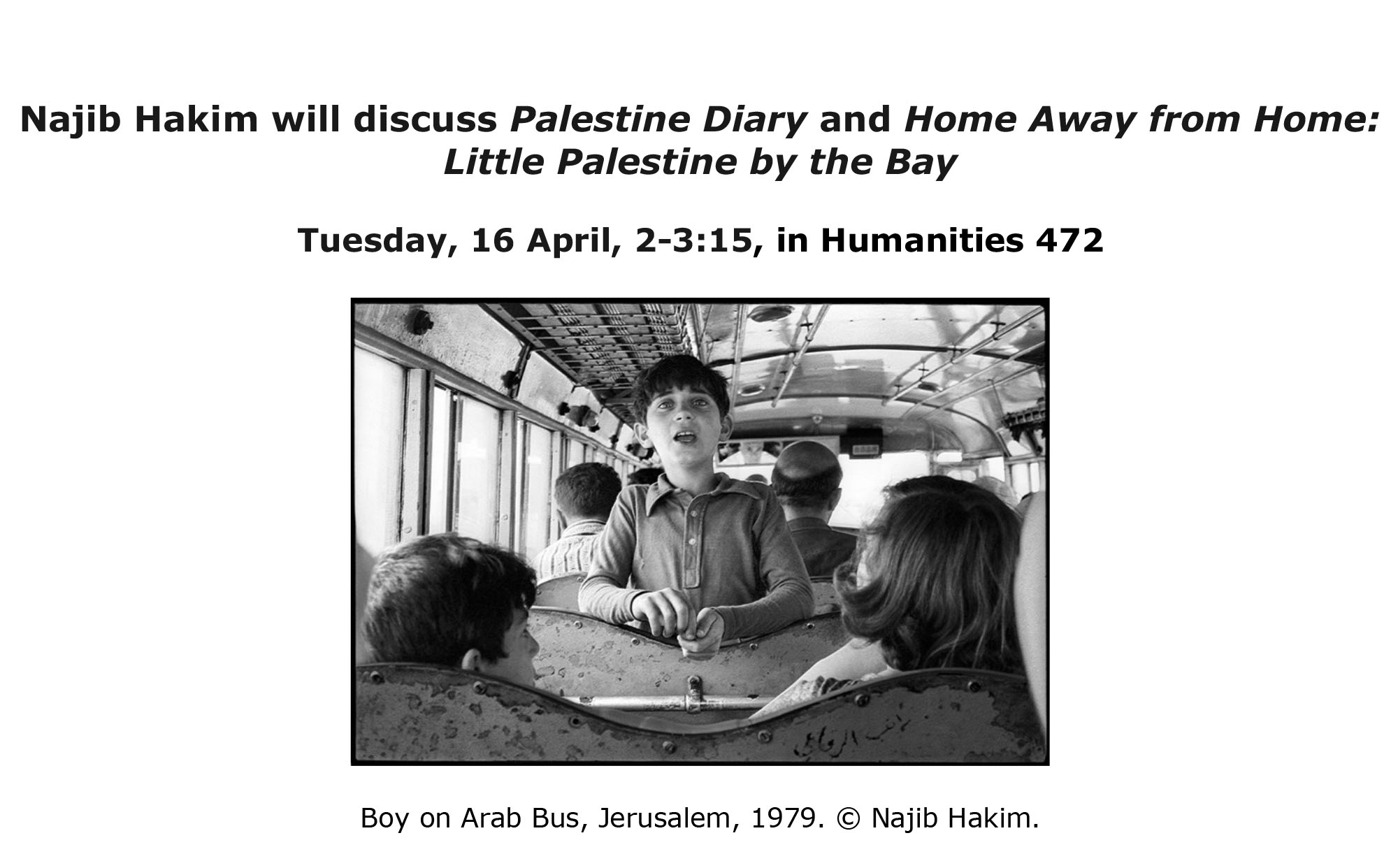 Prize-winning photographer Najib Joe Hakim will give an illustrated presentation about two beautiful multimedia storytelling projects, Palestine Diary and Home Away from Home: Little Palestine by the Bay. Palestine Diary reflects on Hakim's time in Jerusalem and the Palestinian Territories as a young man, in the politically important years 1978-79. Home Away from Home juxtaposes recorded oral histories with B&W portraits; the project uses the resources of storytelling and image to explore the Palestinian diaspora, and in particular the ways Palestinians in the SF Bay Area maintain ties to their homeland while living in a country whose political culture runs counter to their personal aspirations.
To see some of this work online:
https://www.jaffaorangephoto.com/Projects/Palestine-Diary/
http://electronicintifada.net/content/palestinian-america-najib-joe-hakims-home-awayhome/14073
Najib Joe Hakim works as a documentary photographer and photojournalist in San Francisco. His work has been published in national and international magazines and newspapers, and he has won numerous awards for his photography and photo essays. Hakim is a Palestinian-American who was born in Beirut. He obtained his BA in Philosophy and History from the University of Virginia, after which he studied at the Hebrew University of Jerusalem. He is a graduate of Georgetown University's Master's Program in Contemporary Arab Studies. This year Hakim has been a political art fellow at the Yerba Buena Center for the Arts, and his project for YBCA will be exhibited on the first of June. His current exhibition, Palestine Diary, just opened at the Jerusalem Fund Gallery in Washington DC and will be up until June 8. Home Away from Home was exhibited at the Rayko Photo Center in San Francisco, The Jerusalem Fund Gallery in Washington, and the San Francisco Main Library.
Sponsored by the Department of English Language and Literature
For more information, or to rsvp: voloshin@sfsu.edu