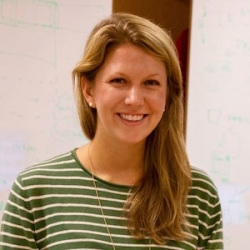 Ariana Hendrix
( She/Her/Hers )
Literature Alumnus
Biography
Undergraduate institution: Grand Valley State University, BA Creative Writing
Graduated from SF State: MA in English Literature, December 2013
Current position: Content Editor at the travel app Stay.com
Upon the completion of my master's at SF State, I moved to Oslo, Norway to be with my now-husband, who is Norwegian. Moving to a new country jobless and without yet knowing the language was a huge challenge, but my educational background in English and the flexibility of my trade (writing, editing, communications, and also teaching, thanks to my T.A. experience at SF State) helped immensely. Having such a diverse skill set allowed me to gain experience in various fields as I worked toward finding a permanent position in Norway. During the job hunt, I worked as an English tutor, edited academic papers, wrote for local English language publications, and became a certified TESL instructor through an online institution, which included practical teaching hours at a language school and a Norwegian high school. I also worked part time for IELTS (International English Language Test System) administering standardized English exams at their test site in Oslo.
I must also add that the themes of some literatures I encountered when working with Dr. Shahani and Dr. Cannon at SF State have helped me to psychologically navigate the experience of adapting to a new culture, and adjusting to a life lived in two worlds. Lesson learned: never underestimate the power of literature; its stories may someday become your own.
Since January 2015 I have worked as a Content Editor for the travel app Stay.com, an Oslo-based startup. I write, edit, and curate city content, create marketing and PR material and campaigns, handle business communications, and assist with the general operation of the company. While as a student of literature I never imagined myself working in in a tech company, I see myself apply the tools of my English education every day. In addition to content writing, I analyze our audience and industry trends to tell our company's unique story, and apply research methods to grow and enrich our content. My professors at SF State taught me to think critically and theoretically, and how to articulate my ideas in an organized, applied manner—skills that have given me confidence and competence in the business setting. Outside of work, I'm a member of the Oslo Writers League and am working on my first novel, a work of historical fiction about the Norwegian immigrant experience.