Sutro Review: SF State Journal for Undergraduate Composition is an academic journal edited by graduate students and devoted to publishing undergraduate students at SF State.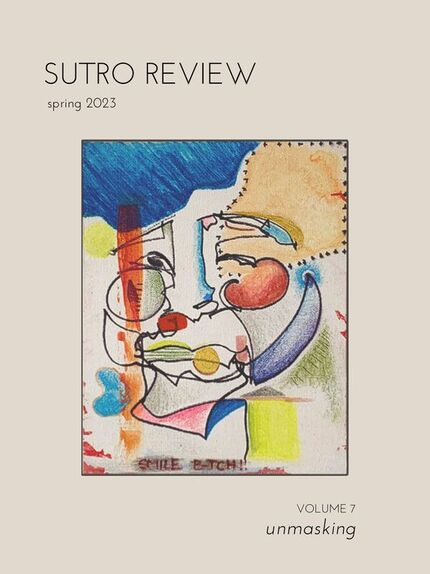 Spring 2016 launched our debut issue, featuring student essays from all class levels and a variety of academic disciplines. We showcase a diverse and talented pool of students, as well as the teaching faculty who inspired them; and we're proud to offer this view into the work being done on our campus.
Journals are available for sale in the Department of English (HUM 484) for $10. Mail orders may be possible.
Please email sutro@sfsu.edu for more information.
Preface
Dear Readers,
Even sequestered at home, in the midst of an unprecedented Stay-at-Home order, we are delighted to present the fourth annual volume of Sutro Review: SF State Journal for Undergraduate Composition, an academic journal produced by San Francisco State University students, featuring the work of some of our most promising undergraduates.
Sutro Review celebrates the diverse and talented voices among undergraduates at San Francisco State and aims to share those voices with the broader community. Our fourth issue includes nine student essays, representing a variety of disciplines and academic styles. From the personal to the political, from literary analysis to social commentary — these essays include a range of provocative topics. This is just a peek into the variety of work produced by our talented undergraduate community at SF State. ​​
​Special thanks to Director of Composition, Jennifer Trainor for her compassionate guidance, Christy Shick for her spot-on tactical advice, as well as Erin Macke, Ross Van Velsor and Todd Walker in the English Department for their technical and organizational help.
And last but never least, we'd like to thank the SF State University Instructionally Related Activities Fund for making this project possible. We hope you enjoy reading! ​​
Sincerely,
Sutro Review Editors
Faculty Supervisor: Robin Meyerowitz
Editors: Danny Benson, Nina Henry