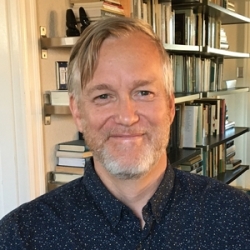 Brian Strang
( He/Him/His )
Lecturer Faculty
Phone: (415) 338-3098
Email: bstrang@sfsu.edu
Location: HUM 319
Teaching at SF State gives me opportunities to do something I find really meaningful: empowering young people. I believe students learn best when in a supportive classroom environment, one that is centered around the student, not the teacher, one that encourages collaboration and one that challenges students to grow as writers. My role is to facilitate this kind of learning community and to support and guide students. I have over 25 years of experience teaching in higher education.
As a graduate of SF State's Creative Writing M.F.A. program and as a long-time participant in the Bay Area creative community — in poetry, art and music — I am especially interested in helping students discover a writing process that works effectively for them because they can use it in so many writing contexts, both in and out of school. I enjoy helping students discover all of the various forms and contexts of good writing and how to use their skills to become independent learners and have more power in our society.
Please consult your course syllabus or contact the instructor directly for office hours.
What My Students Are Saying:
"GREAT PROFESSOR! I would definitely take him again. Very open minded and understanding."

"110% [I would recommend this teacher]. One of the best teachers I've ever had. This is not only how you teach and organize an English class but a school class in general. All requirements are made clear and are fair, participation is highly encouraged and work is graded timely and fairly throughout the semester. Amazing class."

"I would definitely recommend this teacher to another student as his grading system is among the most effective I've come across especially in dealing with trying to improve one's writing skills. His advice has helped me develop my writing even further and throughout the whole semester I've been improving in every aspect. His feedback has made me feel even more confident in my writing skills."

"This class has improved my writing as I can be more thorough and explain and expand on topics more. Throughout this course I learned a lot about myself and writing with a purpose. I believe this class absolutely helped me find my voice through my writing."

"I would recommend this teacher because I believe he genuinely cares about the well-being of his students. He's incredibly supportive and helped me grow as a writer."