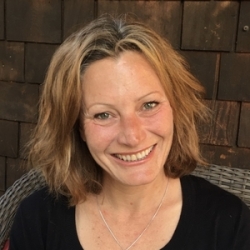 Christy Shick
( She/Her/Hers )
Lecturer Faculty
Phone: (415) 338-3088
Email: clshick@sfsu.edu
Location: HUM 234
It took me forever to graduate college. I spent years traveling and bartending – wandering on wild misadventures before I realized I wanted to go to graduate school and finished my degree.  I don't recommend my messy footsteps to anyone! But I don't think the "right" path is obvious or comes easily; and it's certainly not the same for everyone, which is why I love teaching writing, an invaluable tool for discovery and expression whatever you do with your life!   
Eventually, I earned my B.A. in English from UC Santa Barbara and M.F.A. in Creative Writing from City College of New York where I started teaching in 2006. I've been at SF State since 2012 and continue to develop a creative nonfiction approach to essay writing – one that embraces narrative style and encourages the return of "I" to academic work; because YOU are what makes your writing unique! I value curiosity, earnestness, and risk-taking. My curriculum depends on interests students bring to the table, and I often do assignments alongside them.  
My essays and stories have appeared in several publications, most recently The Write Launch, The Real Story, and Barely South Review. Learn more about my work!
Please consult your course syllabus or contact the instructor directly for office hours.