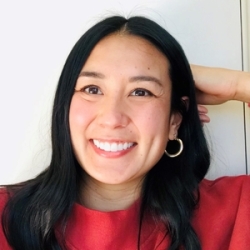 Courtney Ghan
( She/Her/Hers )
Lecturer Faculty
Phone: (415) 338-3091
Email: cghan@sfsu.edu
Location: HUM 240
I love learning. I love absorbing new information and thinking about how it fits with what I know, what I value, and who I am. Whether it is taking on a challenge, reading a book or article., listening to a podcast, or engaging in meaningful conversation, I enjoy expanding my mind and developing my knowledge and skills. I aim to inspire this spirit of inquiry in my students – and to learn from them, too!
I graduated from Sonoma State in 2008 with my B.A. in English (emphasis in curriculum and pedagogy). I earned my M.A. in English Composition and Certificate in the Teaching of Post-Secondary Reading from SF State in 2012. During grad school, I was a grant writer at the San Joaquin County Office of Education. I have taught at SF State since 2011 and Skyline College since 2013. I was the Director of the Writing Center at Notre Dame de Namur University from 2012-2015.
My teaching interests include basic skills and acceleration. I ask students to read and write about topics related to psychology and identity. At SF State, I have had the pleasure of participating in various programs and projects, including: Metro Academies College Success Program and Faculty Learning Community, Metro/CEETL Course Collaboratives, CEETL's  QLT Online Teaching Lab and Online Teaching Squares.
Please consult your course syllabus or contact the instructor directly for office hours.