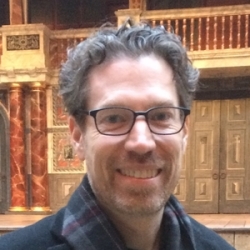 David Foulds
( He/Him/His )
Lecturer Faculty
Phone: (415) 338-2327
Email: dwfoulds@mail.sfsu.edu
Location: HUM 234
Outside the university, all writing is directed toward a specific audience, yet you've probably been writing primarily for your teachers for years. It's no wonder you may feel like English Composition is just another hoop to jump through in order to get your degree.
In the real world, the five-paragraph essay doesn't really exist. While it does give you the basics about backing up your assertions and being organized, it's not really much fun to write is it?
In my classes, I encourage you to write as a mode of self-expression and as a tool for thinking through ideas. In my classes, believe it or not, writing is actually fun. I act as a mediator for you to write to your peers about topics that you find interesting.
David William Foulds holds a B.S. from UC Berkeley, an M.A. in English Composition from San Francisco State, an M.A. in English Studies (with distinction) with an emphasis in Shakespeare Studies from The University of Nottingham, an M.A. in Media Studies from The New School, and certificates in Creative Writing from The University of York and Teaching Post-Secondary Reading from SF State. He has published a textbook of English composition titled The Personal Academic and a medical thriller novel titled Ayira. His research concentrates on how contemporary directors use visual semiotics to explicate Shakespeare's plays and representations of illness and trauma in contemporary television and film. He is currently a Ph.D. candidate at the University of Reading in the UK.
Please consult your course syllabus or contact the instructor directly for office hours.
What My Students Are Saying:
"An incredible professor! Would take again as many times as I could!"

"He's the best! He has such a great amount of energy!"

"He's an amazing professor that is there with you step by step through your writing process, and he helps you enjoy writing essays and helps you find your own unique voice in your writing."

"As the semester comes to an end, I just wanted to let you know that I truly appreciated this class. This is the one class that has made it the most bearable and enjoyable with the online transition. Your lectures were one of the few that made me feel interested in the topic compared to my other classes. I just wanted to thank you for that!"

"I absolutely have no complaints about Professor Foulds' class, which is saying something because I'm a tough critic for the most part. This was such an excellent class. He genuinely cares about his students and is passionate about Shakespeare. There was never a boring day in class and you always knew what to expect."