Language is an essential part of human experience. We use computational, experimental, and corpus linguistic methods to understand the unique role of language in our lives and in our society. The Experimental and Computational Linguistics Ensemble Lab (ECOLE) at San Francisco State University focuses on research on both cognitive and social aspects of language.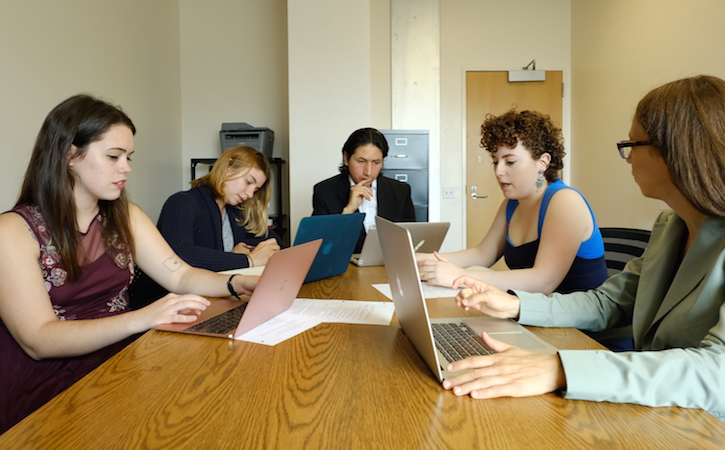 Research
Our research projects focus on both cognitive and social aspects of language. On one hand, we study linguistic phenomena that shed light on the question of grammar architecture and the relation between language and cognition. At the same time we are interested in what language reveals about its users and about society in general.
Current Research:
World Knowledge and Lexical Meaning
What do we know when we know a word? To answer this question, we investigate properties of nominalizations, e.g. nouns morphologically related to verb, such as destruction. Results from experimental and corpus studies suggest that information about event participants is lexically encoded, thus providing theoretical support for the lexicalist approach.
Subjectivity in Language
Do you say Democrats and Republicans or Republicans and Democrats? In a series of papers we show that word order in binomials (above) and in prenominal adjectives depends on subjective preferences of the speaker: the attribute that is psychologically closer to the speaker is mentioned first.
The Syntax and Semantics of Queries
The internet gave rise to a new form of language use – queries. Yet little is known about how we formulate queries. Queries are processed by search engines as 'word salad', identifying keywords inside the query with little attention paid to word order. In this project we investigate the hypothesis that queries are more than 'word salad' and that they have syntactic and semantic structure.
Recent Publications
Smirnova, A. (2021). Variation in linguistic complexity and its cognitive underpinning. Proceedings of the 43rd Annual Conference of the Cognitive Science Society, 2162-2168.

Smirnova, A. (2021). Evidentiality in abductive reasoning: Experimental support for a modal analysis of evidentials. Journal of Semantics, Vol. 38 (4), 531 – 570.

Kakar, V., Kulkarni, A., Holschuh, C., Smirnova, A., & Modrek, S. (2022). Contraception information on the websites of student health centers in the United States. Contraception.

Kulkarni, A., Wong, M., Belsare, T., Shah, R., Yu, D. Y., Coskun, B., ... & Smirnova, A. (2022). Quantifying the quality of web-based health information on student health center websites using a software tool: Design and development study. JMIR Formative Research, 6(2), e32360.
Events and Announcements
Jenna Ferrario, Mikey Pagan, Laurel Selvig, Erli Tang, Olivia Vallejo presented Implications for Text Simplification: A novel approach to Evaluating complexity at the 47th Annual Social Science Student Symposium (S4). California State University Monterey Bay. May 5, 2022.
Anastasia Smirnova presented poster Word Order Communicates User's Intent at Search Queries at WeCNLP 2021. October 29, 2021.
Contact
Please send any questions to the lab director, Professor Smirnova, via email at smirnov@sfsu.edu.
ECOLE Members
Lab members are SF State students who come from diverse backgrounds and bring to the table their expertise in computer science, data analysis, linguistics and psychology.
Lab Director
Anastasia Smirnova, Assistant Professor
Professor Smirnova's primary research focus is on the grammar architecture and the structure of the lexicon (e.g. the relation between verbs and nouns in language), as well as how temporal and modal information is expressed in language. Her research employs a variety of methods, from fieldwork to experimental and corpus studies.
Lab Members
Mikey Pagan
Mikey is an undergraduate in the Linguistics and Comparative World Literature programs. His academic interests largely center around semantics, semiotics, and sociopolitical applications of linguistic analysis. His other interests include walking, seeing live music, and reading fiction, poetry and occult philosophy.
Erli Tang
Erli is a Linguistics graduate student at San Francisco State University. She's particularly interested in sociophonetic research and natural language processing. Other than English, Erli can also speak Mandarin, Shanghainese, and Japanese.
Jenna Ferrario
Jenna recently graduated from San Francisco State University with an M.A. degree in Linguistics. She is primarily interested in semantics with a historical emphasis. Currently, she is working on a comprehensive study of spatial relations in Norwegian.
Lab Alumni
Lauren Baker. Finance manager at DTR Consulting Services.
Angie Garcia. Manager at Sound Hound.
Skyler Ilenstine. Computational Linguist at Microsoft vis DISYS.
Jonathan Kakama. Data Analyst at Vaco.
Chohee Kim. Senior Software Engineer at LinkedIn.
Rose Kitchel. Executive Assistant at the Reeds Center.
Helena Laranetto. Machine Learning Data Linguist II, Alexa Devices at Amazon.
Sujung Nam. Ph.D. Student at University of Hawaii, Honolulu.
Jasmine Rivero. Chatbot Operations Manager at Sense.
Amanda Robinson. Computational Linguist at Samsung.
Ricardo Romero Sanchez. Linguistic Project Manager at Google.
Laurel Selvig. Data Analyst at Axos Bank.
Olivia Vallejo. LV Quality Specialist / Linguist.