Language is an essential part of human experience. We use computational, experimental, and corpus linguistic methods to understand the unique role of language in our lives and in our society.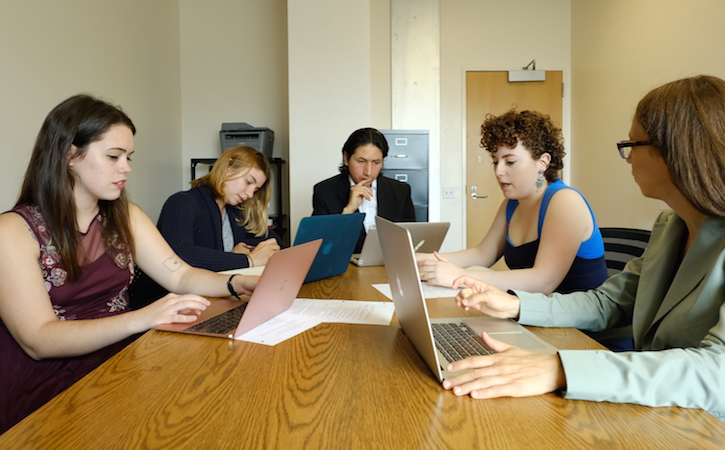 Research
Our research projects focus on both cognitive and social aspects of language. On one hand, we study linguistic phenomena that shed light on the question of grammar architecture and the relation between language and cognition. At the same time we are interested in what language reveals about its users and about society in general.
Current Research:
World Knowledge and Lexical Meaning
What do we know when we know a word? To answer this question, we investigate properties of nominalizations, e.g. nouns morphologically related to verb, such as destruction. Results from experimental and corpus studies suggest that information about event participants is lexically encoded, thus providing theoretical support for the lexicalist approach.
Subjectivity in Language
Do you say Democrats and Republicans or Republicans and Democrats? In a series of papers we show that word order in binomials (above) and in prenominal adjectives depends on subjective preferences of the speaker: the attribute that is psychologically closer to the speaker is mentioned first.
The Syntax and Semantics of Queries
The internet gave rise to a new form of language use – queries. Yet little is known about how we formulate queries. Queries are processed by search engines as 'word salad', identifying keywords inside the query with little attention paid to word order. In this project we investigate the hypothesis that queries are more than 'word salad' and that they have syntactic and semantic structure.
Events and Announcements
Anastasia Smirnova and Skyler Ilenstine's paper on 'What search queries reveal about the theories of register variation' is accepted for poster presentation at the 94th Annual Meeting of the Linguistic Society of America in New Orleans on January 2–5, 2020.
Anastasia Smirnova, Ricardo Romero Sanchez and Alex Lenarsky presented their research on adjective order in queries at the 41st Annual Conference of the Cognitive Science Society in Montreal on July 26, 2019 and published the paper in conference proceedings.
Michael Chatusripitak, Sanghun Namgung, and Jasmine Rivero presented their research on 'Blunts, brownies, and cartridges: An analysis of twitter data sentiment towards different methods of cannabis consumption' at the 6th Annual Symposium on Language Research at UC Davis on May 24, 2019.
Diana Yu, Risha Shah, Sabrina Gonzaga, Fungai Gora, and Byron Mills' presentation 'Differences in access and quality of LARC information across US universities' won the second prize in the 21st College of Science and Engineering Student Project Showcase on May 3, 2019.
Michael Chatusripitak, Jenna Ferrario, Skyler Ilenstine, and Rose Kitchel presented their research on 'Why use many word when few word do trick?: A Computational analysis of the morphosyntax of simplified registers' at the 44th Annual S4 Social Science Student Symposium on May 2, 2019.
Emily Downey, Maxwell Goodwin, Skyler Ilenstine, Johnathon Park, and Olivia Vallejo's presentation 'The structure of search queries' won the first prize in the Showcase of Undergraduate Research, Scholarship, and Creative Activity on May 9, 2018.
 
Contact
Please send any questions to the lab director, Professor Smirnova, via email at smirnov@sfsu.edu.
ECOLE Members
Lab members are SF State students who come from diverse backgrounds and bring to the table their expertise in computer science, data analysis, linguistics and psychology.
Lab Director
Anastasia Smirnova, Assistant Professor
Professor Smirnova's primary research focus is on the grammar architecture and the structure of the lexicon (e.g. the relation between verbs and nouns in language), as well as how temporal and modal information is expressed in language. Her research employs a variety of methods, from fieldwork to experimental and corpus studies.
Lab Members
Lauren Baker
Lauren Baker is an undergraduate student at San Francisco State University, majoring in Linguistics. Her interests include second language acquisition, multilingualism, Natural Language Processing, machine learning, and computational linguistics. She plans to continue her studies in the field after graduation.
Jenna Ferrario
Jenna Ferrario is a Linguistics graduate student at San Francisco State University. She is primarily interested in semantics with a historical emphasis. Currently, she is working on a comprehensive study of spatial relations in Norwegian.
Skyler Ilenstine
Skyler Ilenstine is a Linguistics graduate student at San Francisco State University. He is primarily interested in Natural Language Processing and Conceptual Metaphor Theory. He is currently drawing on both of those domains to investigate online communities dedicated to chronic illnesses.
Jonathan Kakama
Jonathan Kakama is an undergraduate 4th year Economics student at San Francisco State University. He is interested in becoming a Data Scientist after graduation. His interests include macroeconomics, machine learning and data analysis.
Rose Kitchel
Rose Kitchel is a Linguistics graduate student at San Francisco State University. Her primary interests are sociolinguistics, Critical Discourse Analysis and Natural Language Processing. Her research focuses on the discourses surrounding mental health, mass shootings, and hate speech. She plans to continue her studies after graduation.
Alexander Lenarsky
Alexander Lenarsky, a French and Linguistics undergraduate student at San Francisco State University, has researched prenominal adjective ordering and the language positivity bias alongside Professor Anastasia Smirnova. His current research uses queer theory to explain how (and why) gay men employ sexting as a method of resistance. Lenarsky is particularly interested in minority language advocacy and preservation, and looks forward to applying his skills to the field. 
Sujung Nam
Sujung Nam is a Linguistic graduate student at San Francisco State University. She is interested in syntax, morphology, and Natural Language Processing. She is interested to pursue research in these fields.
Bettina Paderna
Bettina Paderna is an undergraduate 4th year student majoring in Economics at San Francisco State University. She has participated in several bootcamps including San Francisco State University's Big Data Summer Program. Her interests include international finance and interactions in the global economy.
Lab Alumni
Angie Garcia. Language Data Specialist at Sound Hound
Chohee Kim. Productivity Engineer at LinkedIn
Helena Laranetto. Language Data Specialist at Sound Hound
Johnaton Park. Graduate student in MA TESOL program at Sacramento State.
Jasmine Rivero. Linguistic Annotator at Unbabel
Amanda Robinson. Data Scientist at Omni Rentals
Ricardo Romero Sanchez. Linguistic Project Manager at Google