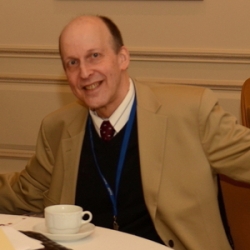 Geoffrey Green
( He/Him/His )
Professor
M.A. Literatures Advisor
Phone: (415) 338-7414
Email: ggreen@sfsu.edu
Location: HUM 570
Ph.D., State University of New York, Buffalo.
Professor Green teaches courses on: interdisciplinary approaches to literature; cultural criticism; literary history and theory; literature and film; modern and contemporary literature; literature and psychoanalysis; literature and the other arts; literature and society; mass media and culture; genre studies; the novel; drama; world literature; postmodernism (text, culture, and theory); and the short story. His research interests focus on: noir culture (literature, film, art, music, architecture, photography, politics, psychology as expressions of American and world cultural identity in the 20th and 21st centuries); Vladimir Nabokov; literary theory and hermeneutics; Erich Auerbach; Leo Spitzer; Walter Benjamin; Thomas Pynchon; postmodernism; psychoanalytic theory; cultural criticism and theory; David Mamet; theatre; literary history and theory; and opera and literature. His publications include these books: Novel vs. Fiction (Pilgrim Books, 1981); Literary Criticism and the Structures of History: Erich Auerbach and Leo Spitzer (University of Nebraska Press, 1983); Freud and Nabokov (University of Nebraska Press, 1988); The Vineland Papers: Literary Takes on Pynchon's Novel (Dalkey Archive Press, 1994). His latest book is a short story cycle Voices in a Mask (TriQuarterly Books, Northwestern UP, 2009) devoted to themes of identity and disguise in opera and theatre. His newest edited book is Scholes Loves a Story: A Book for Bob (Scholesbook/Lulu, 2010), a collection of stories about or concerning Robert Scholes (contributors include Ursula Le Guin, Tzvetan Todorov, Robert Coover, Mary Ann Doane, Michael S. Harper, Arnold Weinstein, Greg Ulmer, Marianne Hirsch, and Geoffrey Green). Forthcoming is Mind Over Mamet. Green has recently published critical articles in Literature and Psychoanalysis; Interdisciplinary Humanities; Critique; Review of Contemporary Fiction; and Nabokov Studies. His recent fiction has been published in: Fourteen Hills; Stanford Humanities Review; Fiction International; and William and Mary Review. He is Executive Editor of the journal Critique: Studies in Contemporary Fiction (Taylor and Francis). Recent special issues he edited include: An American Requiem: Elegies for Thirteen Writers (with his essays on John Hawkes and Joseph Heller) and the forthcoming special issue on Fiction and Film. A consultant and referee for a wide range of institutions, journals, and publishers, he is on the Founding Board of Directors for the new 501(c)(3) non-profit, Humanities Education and Research Association [HERA]. In 2011, he was nominated and elected to membership in the organization, Poets, Essayists, and Novelists [PEN].
Please consult your course syllabus or contact the instructor directly for office hours.