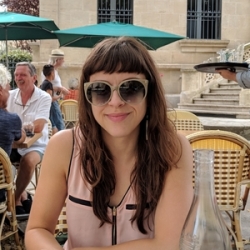 Hannah Phinney
( She/Her/Hers )
Linguistics Alumnus
Biography
Graduated from SF State: MA Linguistics, 2013
Employer and Current Position: Associate Linguist at Google via Adecco
Tell us about yourself and what you are currently doing: 
Currently I'm working as a linguist on Google Assistant. My team is part of the NLU/NLP (Natural Language Understanding/Processing) pipeline which trains computers to process human speech. Specifically, we model the semantics of things people might say to their digital voice assistant (such as "Send a text to mom" or "Find Thai restaurants near me"). I collaborate with incredibly intelligent linguists and engineers, and often get to dive into meaty linguistic/semantic/conceptual domains...it's pretty great!
How has your MA from SFSU helped you to get where you are today?
Although it's been a few years and a bit of a circuitous route to get here, my current position is very closely related to some of the topics we studied during my MA at SF State. Professor Jenny Lederer brought cognitive linguistics from UC Berkeley, and my cohort was the first to benefit from her teaching. I presented my final MA paper at a cognitive linguistics conference, and through connections made there, had an opportunity to work on the FrameNet project at the International Computer Science Institute in Berkeley. That experience enabled me to land a linguist job at Samsung Research America, where I was introduced to the NLU/NLP/machine learning world of voice assistants ("Bixby" is Samsung's version); this in turn enabled my transition from Samsung to Google. However, all of my professors at SF State were incredible (Troi Carleton, as well as faculty in related disciplines - psychology, philosophy - from whom I took helpful elective courses like statistics and formal logic). My fellow students were also fantastic, contributing insightfully to class discussions, group projects, and peer reviews. I continue to be very close friends with several of them today.