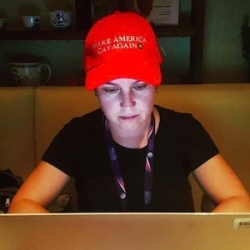 Jennifer Bendery
( She/Her/Hers )
Literature Alumnus
Biography
Undergraduate institution: Mary Washington College in Fredericksburg, VA
Graduated from SF State: MA in English Literature, Fall 2005
Other related SF State certificates: I kid you not, I won a "grad student of the year" award in our dept. What?
Current employer/position: The Huffington Post/White House and congressional reporter
I live on Capitol Hill in DC. When I'm working, I'm chasing down lawmakers and White House officials to harass them about things they usually don't want to talk about. When I'm not working, I'm playing soccer, traveling, drinking whiskey on the rocks, and hanging out with my friends, my fiánce, and my cat.
My M.A. from SF State has, above all else, helped me to be a critical thinker. For the naysayers who wondered why I got a masters in Literature and Critical Theory when I didn't want to be a teacher, I say to you, I apply critical thinking skills to my job almost on a daily basis. There is a woeful lack of critical thinking in this presidential election cycle, so the ability to cut through the noise and make sense of what is actually happening is crucial.
See Jennifer Bendery on the Rachel Maddow Show. Jennifer's part starts about minute 4:30.