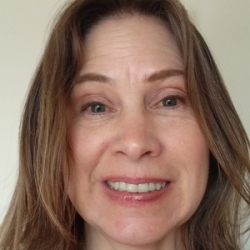 Kirsten Hilbert
Lecturer Faculty
Phone: (415) 338-2144
Email: khilbert@sfsu.edu
Location: HUM 232
I have a B.F.A. in Theater from UCLA, and an M.A. in English (TESOL) from San Francisco State. I have been teaching in the English Department at SF State for 18 years, and I always enjoy learning about my students lives and experiences, as well as the goals that bring them to study at San Francisco State University.
I believe grammar and rhetoric are best taught as tools, not rules. Questions and mistakes are an important part of the learning process, so in my courses I try to give students opportunities to experiment with writing and language. I love working with students on their writing, helping them find their voices and their purpose.
Please consult your course syllabus or contact the instructor directly for office hours.