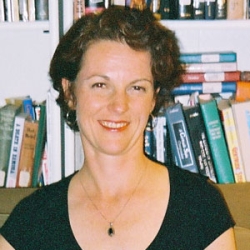 Loretta Stec
( She/Her/Hers )
Professor
Literature Advisor
Phone: (415) 338-1451
Email: lstec@sfsu.edu
Location: HUM 324
Ph.D., Rutgers University.
Twentieth-Century Literature in English; Modernisms; Southern African Literature; Expatriate Writers in Paris; Women Writers; Journalism and Fiction; Atlantic Studies; Feminist Studies. Professor Stec teaches and conducts research in multiple fields of twentieth-century literature in English. She teaches courses on modernist writers including Virginia Woolf, Gertrude Stein, Djuna Barnes, and D.H. Lawrence. She has designed a two-course sequence on expatriate writers in Paris from the 1920s through the post-World War II period. Her course on Contemporary British Fiction brings her teaching into the 21st century. In addition, she teaches postcolonial studies with a focus on western and southern African fiction. A number of her courses are devoted to women writers and include a feminist theory component. Most also consider the cosmopolitan nature of literary and cultural production during the twentieth century. Professor Stec's scholarship has included articles on: women and journalism in the interwar period; writing about Africa by British authors Naomi Mitchison, Winifred Holtby and Rebecca West among others; Virginia Woolf, feminism, and fascism; pacifist writers; didacticism in the fiction of Bessie Head; and the emerging canon of African writers. Forthcoming is an article on Claude McKay. She serves on the Advisory Board of the journal The Space Between: Literature and Culture 1914-1945 and regularly reviews articles for the journal Twentieth-Century Literature. Professor Stec has long-standing connections to the field of Women's Studies. She taught for the Women's Studies Department at Rutgers University; received a Women's Studies Fellowship from the Woodrow Wilson Foundation for her dissertation on the British writer Rebecca West and her milieu; and in 2000 was an Associate Fellow at the Five College Women's Studies Research Center housed at Mt. Holyoke College in Massachusetts. During Spring 2004 and AY 2006-2007 Professor Stec was honored to serve as the Interim Chair of the Women Studies Department at San Francisco State University.
Please consult your course syllabus or contact the instructor directly for office hours.