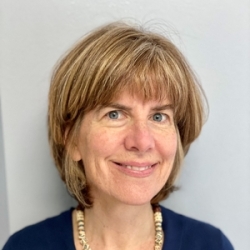 Maureen Fitzgerald
( She/Her/Hers )
Lecturer Faculty
Phone: (415) 338-3096
Email: mfitzger@sfsu.edu
Location: HUM 272
I am proud to have been teaching in the English department at SF State since 2001, working in both the Composition for Multilingual Students (CMS) and the Writing programs. I earned my Bachelor's Degree in Political Science from UCSB, and have always been interested in who has political and social power in our society.  Teaching, I decided, was the best way for me to "fight the powers that be" and help empower the next generation, so I entered graduate school at SF State and earned a Master's in TESOL.  I find great satisfaction in helping my students build their academic skills and seeing them grow in confidence as they meet the challenges of being a university student.
I love working with non-native speakers of English, first-generation college students, and all the diverse groups we have at SF State. 
I have taught students from over fifty countries here at SF State and have taught English in Japan and Peru. Outside of teaching, I am a San Francisco Giants fanatic, kayaker, hiker,  biker, news  junkie, arts lover, and beginning ukulele student.  I also really like trees.
Please consult your course syllabus or contact the instructor directly for office hours.