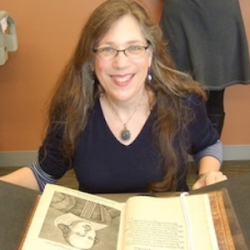 Meg Schoerke
( She/Her/Hers )
Professor
Literature Advisor
Phone: (415) 338-3099
Email: schoerke@sfsu.edu
Location: HUM 323
M.F.A. Poetry Writing, Washington University, St. Louis.
Ph.D, Washington University, St. Louis.
Professor Schoerke specializes in 19th and 20th century British and American poetry, and teaches courses on British and American Romanticism, Modernism, Women's Poetry, Stylistics, Science Fiction, and Theories of Metaphor.  She has published a book of poetry, Anatomical Venus (Word Tech Press 2004), and, with Dana Gioia and David Mason, has co-edited two anthologies, Twentieth Century American Poetry and Twentieth Century American Poetics: Poets on the Art of Poetry (McGraw-Hill 2004).  Her published essays focus on the work of individual poets, including Marianne Moore, Muriel Rukeyser, George Oppen, Elizabeth Bishop, Robert Lowell, Sylvia Plath, Robert Frost, and Julia Randall. Her review-essays on contemporary poetry and on biographies of poets appear regularly in The Hudson Review.  She has also been the recipient of a Tanner Humanities Fellowship (University of Utah), and, in 2014, was delighted to be part of a National Endowment for the Humanities Summer Seminar on George Herbert and Emily Dickinson at the University of Chicago.
Please consult your course syllabus or contact the instructor directly for office hours.