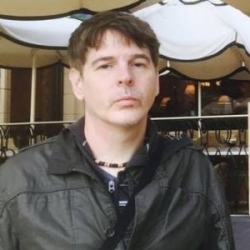 Paul Morris
( He/Him/His )
Associate Professor
Phone: (415) 338-1575
Email: pmorris@sfsu.edu
Location: HUM 432
Ph.D., Illinois State University. 
English education with an emphasis on literacy learning and critical literacy; composition and rhetoric; British literature and historical contexts. Professor Morris teaches courses in English Composition and in English Education, including young adult literature. He is interested in the way that writers orientate themselves to the material conditions of print (as opposed to orality) with particular implications for teaching sentence-level literacy. His research steers conceptions of grammar and punctuation pedagogy from "surface" mechanics towards a more layered interpretation — as a tool for invention in the writing process, and as means of nurturing metalinguistic awareness as part of a broader critical literacy. He is also interested in the implications of genre theory for secondary school teaching in terms of fostering both student textual critique and their own active designs.
Please consult your course syllabus or contact the instructor directly for office hours.