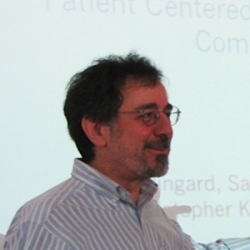 David Olsher
( He/Him/His )
Associate Professor
TESOL Student Association Advisor
Phone: (415) 338-2827
Email: olsher@sfsu.edu
Location: HUM 521
David Olsher earned his M.A. in TESL and Ph.D. in Applied Linguistics from the University of California, Los Angeles. He taught in the M.A. TESL Program at Bowling Green State University in Ohio for two years, where he also coordinated the ESL Program and supervised student teachers. For four years, Dr. Olsher was the coordinator of a college EFL program at Kanda Institute of Foreign Languages in Japan. He has taught in a variety of TESOL contexts, including English as a Second Language and Adult Basic Education in the Los Angeles Community Adult Schools, ESL in an intensive language institute at UCLA, and EFL at a college in Japan.
Dr. Olsher has published articles in The Annual Review of Applied Linguistics and Issues in Applied Linguistics, and has contributed articles to the edited volumes, The Language of Turn and Sequence, Second Language Conversations, and Gesture. He has written two chapters on teaching short responses in conversation for the TESOL volume, Pragmatics. He is also the author of an ESL/EFL writing textbook, Words in Motion. He has presented at regularly at conferences, including annual conferences of International TESOL, CATESOL, and the American Association for Applied Linguistics.
Dr. Olsher's research interests include discourse analysis, conversation analysis, and functional linguistics. He is interested in social interaction in classrooms and other institutional settings, and in the application of research on pragmatics and social interaction to the teaching of oral communication skills.
Please consult your course syllabus or contact the instructor directly for office hours.