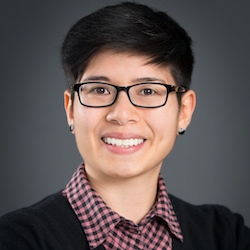 Kathleen De Guzman
( She/Her/Hers )
Associate Professor
M.A. Literatures Advisor
Phone: (415) 338-1886
Email: krfd@sfsu.edu
Location: HUM 538
I joined the department in 2016 after teaching for five years at Vanderbilt University, where I completed my Ph.D. in English. My research and teaching focus on postcolonial literature. More specifically, I study the Caribbean, with particular interests in the novel, film, and the Caribbean's roles within the histories and literary cultures of the U.S., imperial Britain, and the Asian Americas. My publications relating to this research have appeared in journals such as Studies in the Novel, Journal of Transnational American Studies, and Small Axe. I am currently writing a book manuscript that examines Caribbean and Philippine literature and film — two literary and cinematic traditions rarely analyzed together—to show how an archipelagic reading practice expands our understanding of colonial pasts and the possibilities for postcolonial futures.  
At SF State, I teach courses such as Postcolonial Literature and Junior Seminar. I've also developed new courses such as Global Cities and a graduate seminar on Caribbean literature. Beyond the classroom, I meet with current and prospective Literature majors and minors in my role as a Literature Advisor. I am also trained as a Safe Zone Ally to offer confidential support services to students on campus who identify as LGBTQ+.
Please visit my website if you are interested in reading my publications or learning more about my research and teaching. To make an appointment to meet during my office hours, please use my Calendly page.
Please consult your course syllabus or contact the instructor directly for office hours.