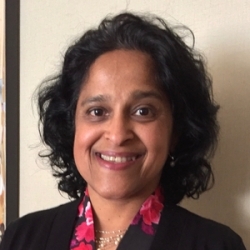 Priyanvada Abeywickrama
( She/Her/Hers )
Professor
TESOL Program Coordinator, CMS Coordinator
Phone: (415) 338-3095
Email: abeywick@sfsu.edu
Location: HUM 269
Priyanvada (Priya) Abeywickrama received her M.A. in Applied Linguistics/TESL from Iowa State University and her Ph.D. in Applied Linguistics from the University of California, Los Angeles.
A native of Sri Lanka, Professor Abeywickrama began as an ESL instructor at the University of Colombo, where she was involved in teaching, curriculum development and materials design. She has taught at the college level both in Sri Lanka and in the U.S. In addition, she has taught TESL methods and language assessment in a variety of contexts, including in the MATESOL program at California State University, Los Angeles, and for the U.S. State Department sponsored Uzbek Teacher Training Program.
Professor Abeywickrama's research combines her interests in language assessment with issues in second language literacy and oral skills. A secondary area of her research is discourse analysis; specifically, codeswitching. She frequently presents her research at the annual conferences of International TESOL, the American Association for Applied Linguistics, and the Language Testing Research Colloquium (LTRC).
Professor Abeywickrama is co-author with H. D. Brown of Language Assessment: Principles and Classroom Practices, 3rd ed. (Pearson, 2018).
Please see the syllabus or contact the instructor directly for office hours.