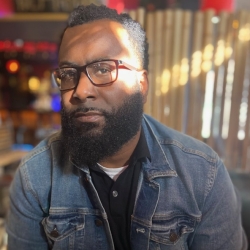 Rejeanne Smith
( He/Him/His )
Lecturer Faculty
Email: rsmith16@mail.sfsu.edu
I love serving others; most of my jobs have been service-related. Teaching is no different. I view myself as a student-centered, culturally responsive educator. I do what I can to help make cultural connections for my students to my course material. My love for writing and people drew me to teaching.
I am a retired US Coast Guard Veteran. I served most of my adult life, and the military returned the favor by allowing me to follow my passion: teaching!
My education started in California Community Colleges. After I retired from the military, I enrolled at Merritt College in Oakland, California. After two years, I transferred to San Francisco State University to complete my BA in English literature. Upon completing my BA, I enrolled in an amazing MA program at SFSU in English Composition. I am currently enrolled in a Doctorate of Education program at the University of San Francisco.
I spend my free time with my family and friends. I also enjoy reading, fishing, and playing with my toys.
Please consult your course syllabus or contact the instructor directly for office hours.