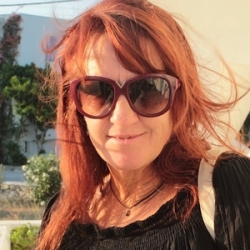 Sarah Anne Cox
( She/Her/Hers )
Lecturer Faculty
Phone: (415) 338-3090
Email: sacox@sfsu.edu
Location: HUM 238
I grew up in Puerto Rico, Maryland and Palo Alto but moved to San Francisco when I was seventeen.  I have a B.A. in philosophy (San Francisco State University), an M.F.A. in Creative Writing (San Francisco State University), an M.A. in interdisciplinary Liberal Arts (Stanford) and I'm currently in the Ancient Worlds MSc program at the University of Edinburgh because I love to learn and research new ideas. I'm a poet and have written several books: Arrival, Krupsaya 2002 and Parcel, O Books 2006, and Super Undone Blue, Dusie 2016. I often write about mythology so my research and my writing go hand in hand.
In my classes, students are invited to read and write about a topic that they feel passionate about.  We focus on learning research skills that will help students dig deep into topics from anime to coral reefs. As an unschooling parent (my kids did not do K-12), I've learned that the best learning comes from following your own interests. It is my goal to help students learn the research and writing tools they need to discover what they want to know.
Please consult your course syllabus or contact the instructor directly for office hours.