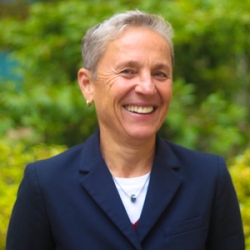 Sugie Goen-Salter
( She/Her/Hers )
Professor
Phone: (415) 338-1586
Email: sgoen@sfsu.edu
Location: HUM 456
Ph.D., Stanford University
Developmental education; literacy studies; Generation 1.5 studies Professor Goen-Salter's research interests include developmental education, literacy studies specifically the integration of reading and writing), and the learning needs of non-mainstream students. She teaches developmental-level courses as well as graduate courses in theory and pedagogy, integrated reading and writing (IRW), and research methods; she also teaches the MA thesis seminar. In addition to her work with Generation 1.5 student writers, she co-directs San Francisco State's IRW program. Professor Goen-Salter has published articles on topics related to Generation 1.5 learners and on reading/writing integration, and she currently sits on the Executive Board of the Conference on Basic Writing.
Please consult your course syllabus or contact the instructor directly for office hours.
The documents on this website/webpage might not be fully accessible to persons with disabilities. We are working to fix these accessibility barriers by June 15, 2022. If you experience difficulty in accessing this content, please contact the Department of English by email at engdept@sfsu.edu and we will provide you with accessible alternatives.