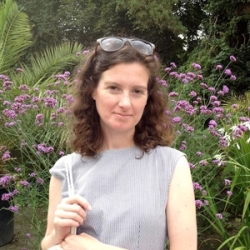 Summer Star
( She/Her/Hers )
Associate Professor
Phone: (415) 338-2240
Email: sstar@sfsu.edu
Location: HUM 541
Ph.D. University of California, Santa Barbara (2012)
Research Interests: Victorian Literature, Poetry, Prosody Studies, Social Realism, Aesthetic and Ethical Theory
In the English Literature program at San Francisco State University, I teach courses in Victorian poetry and the novel. My research focuses on the intersection of formal literary dynamics and representations of mental and spiritual awakenings; Victorian accounts of the unconscious; the aesthetics of the everyday; Victorian innovations in prosody; and new approaches to teaching poetic meter. I have published articles and book chapters on Jane Austen, Gerard Manley Hopkins, George Eliot, and Alfred Tennyson, and have been the co-author of the Victorian Poetry section of Oxford's Year's Work in English Studies.
I am currently completing a manuscript titled Mother of Invention: The Aesthetics of Necessity in Mid-Victorian Literature. The book analyzes the moral and aesthetic valences of economic habits as developed in the novels of George Eliot, Charlotte Bronte, and Elizabeth Gaskell, and argues for the appearance, in these works, of a discrete aesthetic category founded in the three principles of Economy, Efficiency, and Fit. This category is recognizably middle-class (even when represented as thriving, tenaciously, in lower class characters) but I argue that the three Mid-Victorian authors I discuss in this book were interested in mechanisms of representation that would detach the aesthetic of necessity from its class-coding, allowing it to be recognized as a transcendent aesthetic value. Scarcity, uncertainty, insufficient materials of all kind are shown as an ideal training ground for the mind, mothering invention and creating a powerful space for these authors to inquire into the sources and nature of a specifically female imagination.
When not imaginatively dwelling in 19th-century England, I live in San Francisco and enjoy all the fog, liberal thinking, art, and coffee that keep it going, always in the company of my Labrador, Charlotte.
Please consult your course syllabus or contact the instructor directly for office hours.