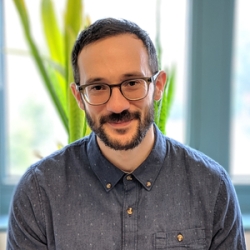 Taylor Fredericks
( He/Him/His )
Lecturer Faculty
Phone: (415) 338-2831
Email: tfrederi@mail.sfsu.edu
Location: HUM 232
EDUCATION
M.A. English, San Francisco State University
M.F.A. Writing, University of San Francisco
B.A. English, McGill University
If you're like me, you probably find that writing is often hard. Either the words won't sit right on the page, or your body won't sit right in the chair — or worse, the words won't appear at all. That's because when we wrestle with language, we're really wrestling with ourselves: who we are, who we want to be, and what we want to communicate to the world around us. It's really not that surprising that people often find writing difficult when you think about what's really at stake. Still, that doesn't mean the process can't be thought-provoking, exciting, or even fun.
In my classes, I try to create experiences where students can explore and share their ideas, try new things, and take on new challenges without fear of making mistakes. To do this, I encourage my students to talk, interact, and work together as human beings, and not just some nameless faces who've been brought together by a scheduling quirk. I also ask students to bring their genuine interests into the classroom, so that we can read, write, and think about topics that are important to us. It's my belief that the more we bring our authentic selves into the classroom, the more likely we are to create an environment that promotes genuine engagement and careful thinking about our writing processes, both of which ultimately lead us to deeper levels of self-discovery.
One day, you'll be sitting at a desk and you'll realize that you're about to write the most important thing you've ever written: maybe it's a cover letter for your dream job, or a letter to tell someone that you love them, or you miss them, that you're sorry. When that day comes, it's my hope that, through our time together, I will have helped you to discover who you are, what you believe in, and what you're capable of as a writer. It's an endless battle, discovering and sharing ourselves through language, but it's an important one, and there's no better place to take up the fight than in one of my classrooms. I hope to see you there.
Please consult your course syllabus or contact the instructor directly for office hours.
What My Students Are Saying:
"To me a teacher's passion for their job is either apparent or it's not. Professor Fredericks clearly puts the time and effort into his classes, and cares for his students. The setup of his course was very helpful in the sense that the assignments continuously built on past assignments, and revolved around a topic that the student was able to choose. This allowed us to learn about topics that were relevant to our lives, all while learning skills and techniques along the way. It was a really fun and informative semester."

"My writing has become much better since taking Professor Fredericks' course. He showed us that writing is for everyone, not just people who think they're naturally good at it. He gives great feedback, and if he sees you struggling, he will keep pushing you until you understand. I also like how he asked for our feedback and opinions in terms of what we wanted to learn more about during the semester. Overall, he is just a great teacher and human in general."

"Taylor made class extremely fun, and I always looked forward to going. He really tries to relate to his students, and takes time for you to get to know your classmates, which makes his class a fun and safe environment to learn. Although we were tired most days, he always brought our energy up."

"I really enjoyed taking Taylor's class. He is a very helpful and present professor. Whenever anyone has a question, they can easily contact him by emailing him or coming into office hours, and he will gladly help them. I am pretty self-motivated, but he really helped me be more motivated because he would constantly remind us in class and through emails what was due and when it was due. He always asked if we had any questions, and was super willing to help any student who needed help. It was easy to keep up with, and even though the assignments were challenging, it was a good type of challenge that helped me start writing better!"

"Taylor Fredericks is not only an entertaining teacher, he is also very passionate about English. It's often difficult for me to keep my focus in class, but he always did a good job of keeping my attention. He also tries his best to make sure each student understands key concepts, and answers all their questions. I fell behind a good amount near the end of this semester for personal reasons, and was feeling nervous about passing. I didn't want to talk to Taylor about it because I was ashamed and embarrassed, but he thankfully pulled me aside to talk. Taylor Fredericks is a great person and great instructor, and I highly recommend his class."