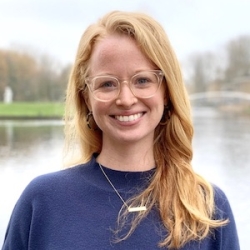 Teresa Pratt
( She/Her/Hers )
Assistant Professor
Phone: (415) 338-3156
Email: tpratt@sfsu.edu
Location: HUM 428
Teresa Pratt is a sociolinguist, primarily interested in how speakers make use of all the subtle differences in pronunciation to construct and interpret the social world around us. Her research connects the social meaning of variation in interaction to broader community-wide patterns of linguistic variation.
She completed her postdoctoral studies in the Sociolinguistics Lab at University of Duisburg-Essen in Germany, where she worked with Isa Buchstaller and Yolandi Ribbens-Klein.
Pratt earned her Ph.D. at Stanford University. Her advisers were Penny Eckert and Rob Podesva, and she was involved with the Voices of California Project, which documents life and language throughout the state. Pratt conducted her dissertation fieldwork in the Bay Area. She previously taught at Stanford and SF State.
Please consult your course syllabus or contact the instructor directly for office hours.