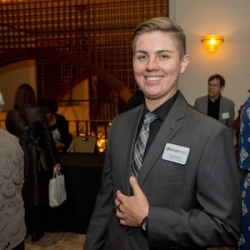 Tobi Harper
( They/Them/Theirs )
Literature Alumnus
Biography
Undergraduate institution: University of California Santa Barbara
Graduated from SF State: MA in English Literature, Spring 2015
Other related SF State extracurricular activities: Co-Chair of the Graduate Literature Association; Editor-in-Chief of Interpretations, the annual SF State Graduate Literature Journal, and Chair of Explications, the annual SF State Graduate Literature Conference
Current Positions: Deputy Director at Red Hen Press, Publisher of The Los Angeles Review, Founder and Editor of Quill, Instructor at UCLA Extension Writers Program.
During my time at SF State, I worked at the J. Paul Leonard Library as a student assistant, working my way up through several positions before becoming IT Staff. Just after completing my master's, I moved to Los Angeles to work as a Development Associate at Red Hen Press. My experience as a well-read graduate student, computer tech, co-chair of the GLA, Editor-in-Chief of Interpretations, and Chair of Explications, prepared me for an incredibly challenging non-profit position.
Since beginning at Red Hen Press in July of 2015, I have become the Deputy Director and Marketing Director, serve as Publisher of The Los Angeles Review ,and Founding Editor of Quill, a queer prose publishing series that publishes a queer author once per year, chosen by rotating judges through award submissions with a prize of $1,000 and book publication.