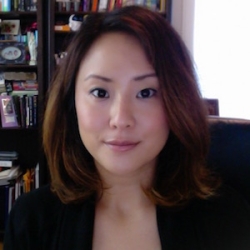 Viola Lasmana
( She/Her/Hers )
Literature Alumnus
Biography
Undergraduate institution: Foothill College & University of San Francisco
Graduated from SF State: MA in English Literature, Fall 2010
Other related SF State honors: Distinguished Achievement Award for Academic Excellence, College of Humanities (May 18, 2011).
Current employer/institution and position: Ph.D. Candidate (Department of English) & Andrew W. Mellon Digital Humanities Ph.D. Fellow, University of Southern California
I am currently a doctoral candidate in the Department of English and a 2015-2017 Andrew W. Mellon Digital Humanities Ph.D. Fellow at the University of Southern California. My research interests include American and Indonesian literatures, transpacific studies, digital humanities, feminist media and pedagogy, literary and critical theories, and remix culture. My dissertation analyzes the role of US imperialism in Southeast Asia, focusing on literary texts, visual media, and digital archives that write against historical traumas and archival silences in post-genocide, post-1965 Indonesia.
My work can be found in Visual Anthropology, Computers and Composition Online, Interdisciplinary Humanities, and make/shift: feminisms in motion. I was a long-time HASTAC (Humanities, Arts, Science and Technology Alliance and Collaboratory) Scholar, a 2013-2014 USC Transpacific Studies Graduate Fellow, and I currently serve as one of Fembot Collective's International Consultants on the Fembot Advisory Board (FAB).
Completing the MA in Literature at SF State is one of the best experiences in my academic life: the program was vital in shaping me into the scholar that I am today, and in providing the necessary training and professionalization I needed before going into a Ph.D. program. The mentorship that I received from Geoffrey Green and Lawrence Hanley was absolutely invaluable and I am indebted to them for their rigorous support and care. My experience as a TA for both of them made me more ready and confident to teach as a graduate instructor at my current institution, and allowed me to understand how scholarship and pedagogy go critically hand in hand.